Insulated panel system (IPS)
Brick-It™ Insulated Panels (IPS) are made to customer's specifications and are special order systems. They are available in a variety of colors, textures and brick types. The Brick-It™ Insulated Panel System has the universal appeal of brick plus the energy-saving advantage of polystyrene insulation and is best used as siding.
Brick-It™ Insulated Panels are an efficient way to install thin brick when insulation is also a necessity. It's virtually maintenance-free, more durable and longer lasting than aluminum, wood or vinyl siding. In addition, it saves you time and money because no footings or permits are required. See Why Brick-It™ for additional information.
Any handyman or professional can install the Brick-It™ Insulated Panel System.
Note: Before you specify this system; Please contact our sales department. This System is available by "Special Order" only with limited brick choices.
Insulated panel system - Available in one size: 48"(w) x 11 1/2"(h)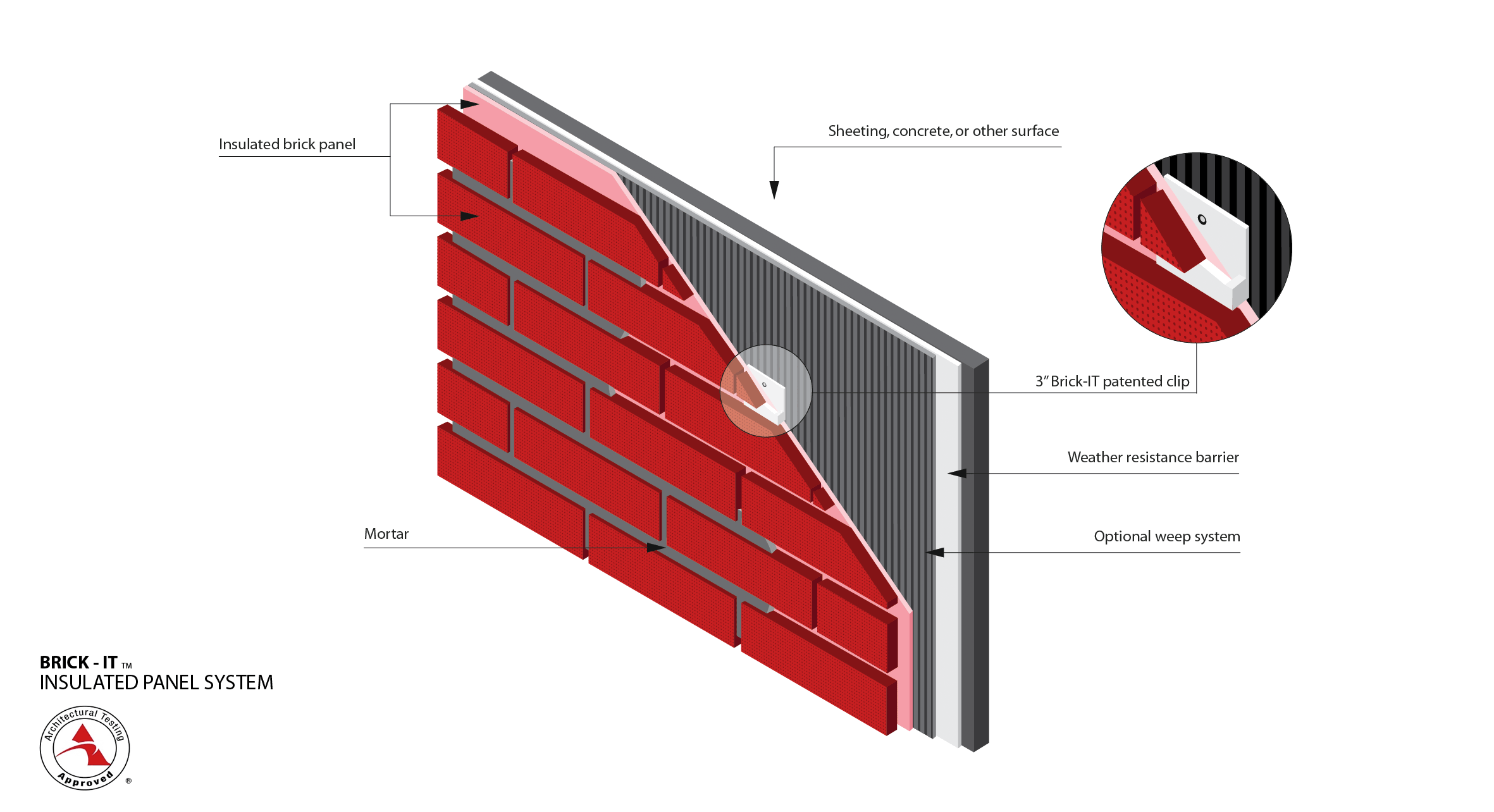 Files
The Brick-It™ Insulated Panel System Is For All Seasons
United States Patent #4641473 & #5009051
The Brick-It™ Insulated Panel System has the texture of real brick. The only difference is its thickness. It's composed of standard-sized, 1/2" thick bricks and a strong, 1" polystyrene board - a material selected for its durability and special insulating qualities.
The well-known insulating properties of brick and polystyrene make the Brick-It™ Insulated Panel System an exceptionally effective, energy-saving panel system. It puts the insulation on the outside - where it works the best to keep interior temperatures warmer in the winter and cooler in the summer.
Brick-It™ Insulated Panel System's insulating properties actually help maintain wall strength by reducing extreme temperature differences between exterior and interior surfaces. Reduced thermal shock significantly lessens wall stress during winter and summer season when exterior and interior temperatures vary greatly.
An Important Maintenance-Free Advantage
Homes and buildings sided with the Brick-It™ Insulated Panel System take the beating of sun and freezing temperatures in stride and eliminate the cost and time that maintenance requires.
A Positive, Mechanical Fastening System
Brick-It™ Insulated Panel System's unique anchoring system consists of our patented clips to fasten each panel to the support structure at 16 inch on center intervals. The clips are designed to create a strong mortar and panel bond as well as to secure the panels to the building's support structure. The double-flanged support clips with mortar receptors lock and align both top and bottom panel to the substrate. It also places the horizontal panel joint above the mortar joint to prevent water penetration.
This anchoring system is completely independent of the adhesive bond attaching the bricks to the polystyrene board panel.
Brick-It™ Saves On Foundation And Footing Costs
Brick-It™ panels start right at the base of the structure's present siding with a continuous, fastening starter device. Because the Brick-It™ panel systems is only 1 1/2" thick, it does not require the special, costly foundations of conventional brick. The panels are machine-grooved top, bottom and rear for a perfect interlocking fit. They will always align and lay flat on the substrate.
Panels are lightweight and easy to handle
Brick-It™'s panel system weighs just 6 pounds per square foot after mortaring - an important consideration for existing structures or new, frame constructions. The insulated panels are easy to handle and install because they are only 11' high. This gives the panel stability and strength and allows for more support clips per square foot.