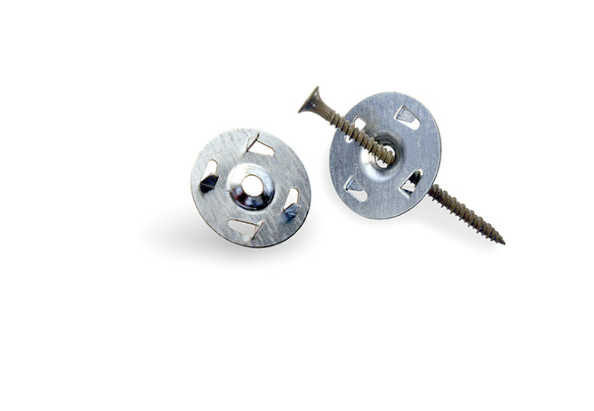 Metal Washer with Fingers
Great for attaching Metal Lath or Polyisocyanurate Foam Insulation to multiple substrates

1-1/4" diameter galvanized steel washer for securing metal lath wire or foam to differnet substrates.
G90 Chromium-Plated
Pre-Spot Tabs
Lath Washer Can be Screwed, Nailed, or Shot
Works Well with Multiple Substrates
Covers Many Rigid Insulation Applicatons
Specially Designed Fastener for Atlas Roofing Stucco-Shield® Polyisocyanurate Wall Insulation
Tapered tabs with rounded tips 5/16" leg length.
Holes in top allow exterior, base coatings to bond to DP500 washer face.
Tabs stick into insulation surface, allowing free use of the hands during fastening application.
Tabs resist washer rotation while screw is seated into disk face.
Round shape design, evenly distributes bearing load without any sharp edges or corners, minimizing damage to facer or insulation.
Seated plate has zero profile and will not catch the edge of the trowel.
Our DP500 Tab Washer is a galvanized, 1-1/4-inch plate used for stucco applications. It has metal tabs that hold and lock stucco sheathing in place, reducing washer spin. Each washer comes with a G90 plating that resists corrosion from weather exposure. Prolonged corrosion, especially in coastal areas, mandates covering the DP500 with a stucco base within a few hours of installation to prevent unnecessary exposure