BRICK VENEER CUTTING SERVICE
Bring Your Own Brick (BYOB)
If you looked through our thin brick products are still not quite satisfied with the options, we now give our clients ability to bring their own brick to be cut. This options is used in situations where some historical bricks can no longer be acquired or for other economical reasons. With the latest engineered fully automated brick cutting technology we are capable of producing tens of thousands of cuts each day, consequently reducing product price, and increasing options of thin brick veneer textures and colors for our clients.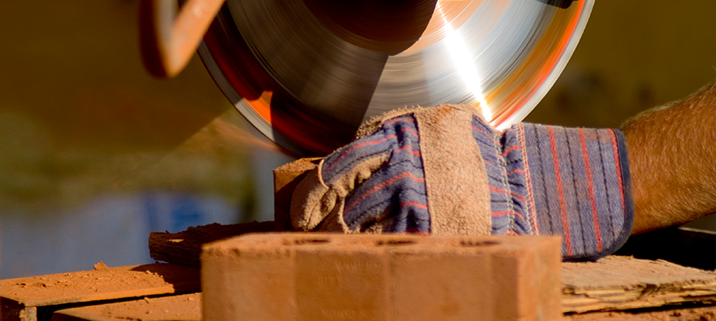 PLEASE READ IN IT'S ENTIRETY TO FULLY UNDERSTAND OUR CUT BRICK PRODUCTS
Not all bricks are manufactured in a thin brick shape. If that is the case we sell full bed bricks, then cut them into a thin veneer at an additional charge. In a case of a molded brick (Machine and Handmade), each full brick yields two thin bricks making these products economical in comparison to other thin bricks on the market. Extruded full bed bricks are typically less expansive to purchase, and even thou it yields only one thin brick, they still provide viable option to a lot of customers. Especially, in case when brick matching is required, or thin brick is out of stock and delivery times cannot be met by brick manufacturing plant. We cut all veneers to a thickness of 3/4" by default. Other depths are available upon request. All bricks naturally have microscopic cracks in them which are not visible to a naked eye. Due to the fragility of this product, some will crack during cutting process. Please account for that occurrence when placing your orders. Please consider ordering overages; 3-4% for most extruded bricks, 5-7% for machine molded, and 7-10% for hand molded. We typically pack the entire order amount including the cracked pieces into the boxes. In most cases customers utilize broken pieces for cuts and infills. Others want the broken pieces to add more character to the finished product.
All our cut bricks are washed, rinsed and treated against microbiological contamination.